You are here
Main events calendar
Past Events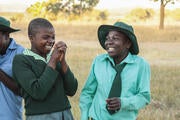 11 October 2016 - 11 October 2016
Global
In 2011, the United Nations General Assembly adopted 11 October as the International Day of the Girl Child, recognizing girls' rights and the unique challenges girls face around the world.
Details
19 August 2012 - 19 August 2012
Worldwide
World Humanitarian Day was declared in 2008 and first commemorated in 2009.The theme for this years commemoration is "People helping people"
Details
12 August 2012 - 12 August 2012
Worldwide
Each year on 12 August, International Youth Day (IYD) is assigned a theme; a conceptual slogan that communicates the scope, direction, and objectives of the year's youth initiatives and that also provides a unifying banner from under which individuals can draw the inspiration to take action. The theme chosen for International Youth Day 2012 – Building a Better World: Partnering with Youth – is a global call to action for young men and women, as well as other stakeholders around the world, to develop and engage in partnerships with and for youth towards building a better world.
Details
Pages