You are here
Main events calendar
Past Events
8 March 2018 - 8 March 2018
Zimbabwe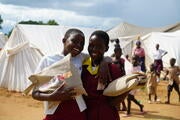 11 October 2017 - 11 October 2017
Global
EmPOWER Girls: Before, during and after crises
Since 2012, 11 October has been marked as the International Day of the Girl. The day aims to highlight and address the needs and challenges girls face, while promoting girls' empowerment and the fulfillment of their human rights.
Details
12 August 2017 - 12 August 2017
Global
12 August was designated as International Youth Day by the UN General Assembly in 1999. It is an annual celebration of the role of young women and men as essential partners in promoting human rights and development. It is also an opportunity to raise awareness of the challenges and hardships facing the world's youth. 
Details
Pages