You are here
Main events calendar
Past Events
12 August 2018 - 12 August 2018
Worldwide
11 July 2018 - 11 July 2018
Global
In 1989, the Governing Council of the United Nations Development Programme recommended that 11 July be observed by the international community as World Population Day, a day to focus attention on the urgency and importance of population issues. This year, on World Population Day, UNFPA will celebrate the theme "Family Planning is a Human Right."
Details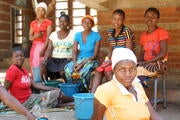 23 May 2018 - 23 May 2018
Global
An estimated 2 million women and girls are living with obstetric fistula, a hole or tear between the birth canal and the rectum or bladder that results in chronic incontinence, dangerous infections and, due to the stigma that surrounds it in many communities, a lifetime of discrimination. Sufferers often endure depression, social isolation and deepening poverty. Many women live with the condition for years – or even decades – because they cannot afford to obtain treatment.
Details
Pages