Zimbabwe releases the 2022 Population and Housing Census Preliminary Results
Harare, Zimbabwe, 26 July, 2022 – Zimbabwe has released the 2022 Population and Housing Census Preliminary Results which has shown, among other things that Zimbabwe's population has increased by 16.2% and now stands at 15.1 million people from the 13 million people in the last census in 2012.
Announcing the results the Zimbabwe National Statistics Agency (ZIMSTAT) director general Taguma Mahonde said this gives an annual population growth rate of 1.5%.
"The population of Zimbabwe as at 20th April 2022 was 15 178 979, of which 7 289 558 (48 percent) were male and 7 889 421 (52 percent) were female, giving a sex ratio of 92 males for every 100 females," he said.
"Given the 2012 population size of 13 061 329, this gives an annual population growth rate of 1.5 percent. The population constituted 3 818 992 households, giving an average of 4 persons per household. Given a land area of 390,757 square kilometres, the resultant population density stood at 39 persons per square kilometre."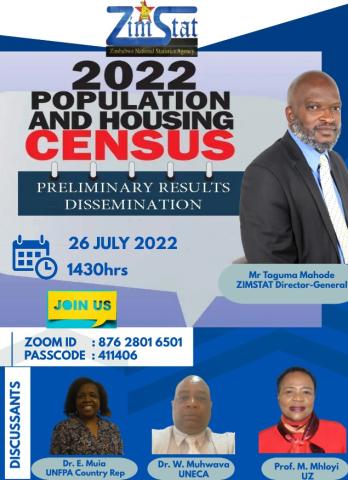 The 2022 census was the first digital census to be conducted in Zimbabwe. The Zimbabwe National Statistics Agency (Zimstat) conducted the census from 21 to 30 April this year and was successfully conducted in spite of delays caused by COVID-19 movement restrictions.
"The advent of COVID-19 in 2020 interrupted the mapping exercise and supply chains which were critical components of the preparatory phase of the census. Zimstat lost ten months of preparatory work as we complied with Covid-19 lockdown restrictions," he said.
Speaking at the dissemination meeting UNFPA Country Representative Dr. Esther Muia applauded the Government of Zimbabwe through ZIMSTAT for adhering to the internationally recommended period of conducing population and housing censuses once every 10 years.
"At the core of UNFPA's mandate is the need to ensure that reliable and timely data is available to inform formulation, planning, implementation and monitoring of interventions. We support countries in using population data for development policies and programmes,"said Dr. Muia.
"Our anticipation is that these preliminary results will be followed by the release of more detailed results showing among other things the age distribution of the population as well as the magnitude of births, deaths and migration, which as we all know are the key drivers of population change."
For more information on the Preliminary Results read the full report here: https://zimbabwe.unfpa.org/en/publications/2022-population-and-housing-c...