Gwanda, 9 September, 2016 – The United Nations Population Fund (UNFPA) and the Government of Zimbabwe (GoZ) have a launched a One Stop Centre (OSC) at Gwanda Provincial Hospital that will provide emergency medical treatment and other support services to survivors of Gender Based Violence in Zimbabwe's Matabeleland South Province.
The One Stop Centre will provide much needed medical, legal and psyscho social services to survivors at no cost under one roof. This intervention is under the Integrated Support Programme for Sexual and Reproductive Health (ISP) which is supported by the Governments of Britain, Ireland and Sweden. The OSC is being jointly implemented by the Ministries of Women's Affairs, Gender and Community Development (MWAGCD) and Ministry of Health and Child Care (MoHCC).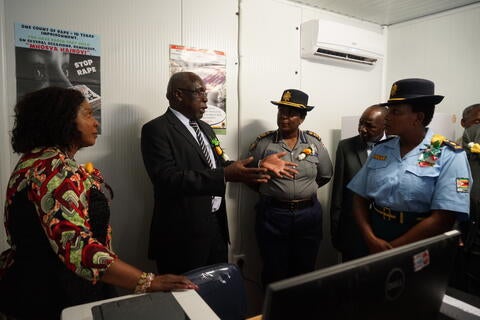 The Gwanda OSC is the fourth to be launched in Zimbabwe with other centres in Harare at Musasa Project an implementing partner, Rusape District Hospital in Manicaland Province and Gweru Provincial Hospital in Midlands Province. In Harare a 24 Hour clinic has also been set up Wilkins Hospital for survivors of Sexual Gender Based Violence (SGBV). Plans are underway to establish more centres in at least every province in the country to bring more services to survivors.
Speaking at the launch of the OSC Minister of Women's Affairs, Gender and Community Development Hon. Nyasha Chikwinya said the One Stop Centre model represents a promising model for providing comprehensive care and support for survivors by providing direct services under one roof.
"In most communities, service providers are located in different physical locations thereby inhibiting timely and efficient responses and police stations and hospitals do not provide a conducive atmosphere to report cases of GBV," she said. "The environment accorded by One Stop Centres allows survivors to feel safe and to open up on their devastating experiences at the same time guaranteeing them maximum confidentiality."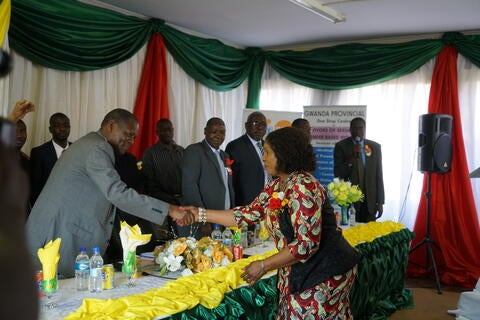 The 2015 ZDHS confirms that violence against women is rife in Zimbabwe and affects all women, regardless of geographic location, wealth or education. According to the Zimbabwe Demographic Health Survey (2015) at least 13% of women have experienced physical violence and at least 13% have experienced sexual violence. The launch of the One Stop Centres is one of the many efforts to address the problem of Gender Based Violence in the country.
Also speaking at the launch the Deputy Minister of Health Dr. Aldrin Musiiwa said the health sector response to GBV is very important for survivors.
"Our ministry is very proud to be part of the launch of the One Stop Centres because they provide essential and life-saving services, especially health services, for many of these survivors," he said.
Under the ISP programme, UNFPA has been working with partners to implement a wide range of interventions to reduce GBV and to increase availability and utilisation of GBV services by survivors and perpetrators. The key thrusts of the programme include increasing awareness of gender responsive laws and services, and women's rights; strengthening of the GBV referral pathway; provision of direct services, including legal aid and psychosocial support, and mobilising men and young people to support gender equality.
The health sector response component of the UNFPA Zimbabwe gender programme includes the programmatic interventions such as the launch and roll out of the clinical guidelines on the management of SGBV, training of GBV multi-sectoral teams on the referral pathway and provision of comprehensive services to survivors of GBV at One Stop Centres. To date, more than 17 000 GBV survivors have been reached with services through the One Stop Centres. Other service centers for survivors of GBV set up by UNFPA and partners include six safe shelters set up by implementing partner Musasa in Bubi, Marange, Chikomba Gutu, Harare and Gweru.
UNFPA Country Representative Cheikh Tidiane Cisse said the Fund is committed to working with the GoZ in providing quality services to survivors of GBV adding the community also has an important role in this endeavour.
"Addressing GBV adequately requires community intervention not only Government effort," said Mr Cisse. "GBV takes place within families and communities but sometimes GBV is tolerated if not actually encouraged as an acceptable form of dispute resolution. I encourage communities and families to learn values that give honour and respect to women and girls."
By Bertha Shoko