Harare, Zimbabwe, 20 September, 2022 – UNFPA's new  Regional Director for the Eastern and Southern African Regional Office (ESARO) Ms Lydia Zigomo was on mission in Zimbabwe in support of the Sexual Reproductive Health and Rights (SRHR) agenda for women and young people. She was accompanied by the UNFPA Human Resources Director, Ms Josephine Mbithi.
While in Zimbabwe, the Regional Director had meetings with a number of stakeholders, including the United Nations Resident Coordinator, Mr Edward Kallon where they discussed a wide range of issues including UNFPA's work in Zimbabwe. Ms Zigomo and Ms Mbithi had a meeting with UNFPA Zimbabwe staff where various issues related to UNFPA work in Zimbabwe and staff welfare were discussed. The RD encouraged staff to continue to working hard in support of UNFPA's mandate in Zimbabwe where numerous challenges still remain.
As part of her mission to advance the SRHR agenda and appreciate UNFPA work in Zimbabwe Ms Zigomo visited Hopley Clinic and Youth Centre. There, she met with programme beneficiaries and implementing partners working to support UNFPA's mandate in Zimbabwe.
Hopley is a peri-urban district located on the outskirts of Harare. It has a population of 283,450, of which 65 000 are aged between 10-24years and almost 3,000 are girls out of school.  It is characterized by high levels of migration, poor infrastructure, weak social services, low education, high unemployment and informality.  Child marriages and teenage pregnancies are common, at 18% and 21% respectively.  At least 70% of women are mothers by age 24 years.
In 2017 UNFPA, ILO, Lafarge Holcim Cement and the City of Harare partnered to improve the SRH outcomes and reduce vulnerability of young people through integrating SRH, skills development and economic empowerment. The partnership saw the establishment of the Tariro Youth Center and the Hopley Clinic whose construction was done by young people, both boys and girls, from this community. The young people were trained in various areas such as plumbing, building and cobblestone technology and then apprenticed by the City of Harare to build the clinic, the youth center and the road to these facilities. This provided the young people with sound experience and a chance of employability. At least 56% of the 100 young people trained where young women.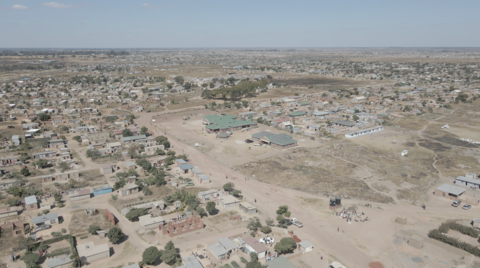 The clinic offers a full range of primary care services. It has a staff complement of 15 (2 midwives,3 Registered General Nurses, 6 nurse aides, 4 Cleaners). It has established linkages with the youth centre and has a designated room and a nurse assigned to attend to young people. City of Harare has committed to making the clinic a centre of excellence that provides comprehensive integrated services with synergy of programmes and better health outcomes including motivated youths, staff and an engaged community.
Maternal health services provided at the clinic include antenatal care and post-natal care. The clinic sees an average of 315 new antenatal cases per month with an average of six per month booking before 16 weeks. ANC records at the clinic indicate a rise in teenage pregnancies which is attributed to hotspots of selling sex, school drop outs, overcrowding and poverty.   
"We offer comprehensive health services in adjacent to the clinic with a youth center where all other social issues in the community addressed one of the biggest challenges is the volume of people coming here," said Harare City Health Services Manager Mr Richard Chigwere. "We serve in excess of 500 patients every day so we need a bigger facility and more human resources so that we can turn around the number of patients we see faster."
The construction of the youth center and clinic has opened an avenue for broader partnerships with the City of Harare and more UN agencies, CSOs and NGOs joining to support SRHR/HIV/SGBV work under different funding frameworks including the Health Development Fund (UNICEF,UNFPA), Global Fund, Safe Guard Young People Programme (UNFPA) and 2Gether4SRHR (UNICEF, UNFPA, UNAIDS and WHO). 
UNFPA in partnership with Plan International is supporting integrated SRHR and economic empowerment services for young people and women in Hopley. This includes the development of entrepreneurship skills, capacitation of young people seeking to establish viable income generating projects from inception and establishment of community eco-systems that seek to sustain business efforts.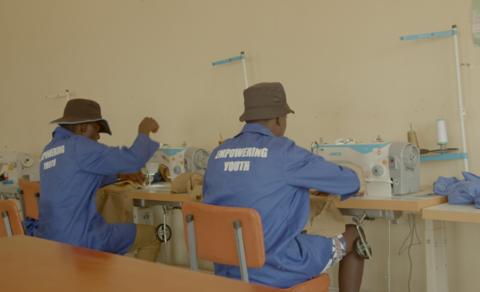 "This initiative is a good example of how to integrate different types of sexual reproductive health services with HIV services in normal primary healthcare but also with an element around education behaviour change and economic empowerment," said Ms Zigomo. "That is what makes this initiative successful particularly in a community of over 270,000 people where there are not many services available…these are things we need to advocate and push for so that more partners come on board to support and for the government itself to invest more in the centre."