Harare, 11 July, 2016 – As Zimbabwe joins the rest of the World to Commemorate World Population Day the United Nations Population Fund (UNFPA) and its partners are calling on greater investment in teenage girls which is important to reap the demographic dividend.
World Population Day is a day set aside by the United Nations on the 11th of July as an opportunity to build better awareness on population issues and their relation to development. For 2016 the theme is "Investing in teenage girls". This is a call on greater investment in teenage girls for every teenage girl has the right to a safe and successful transition into adulthood and the right to embrace th=-e opportunities that the future holds for them.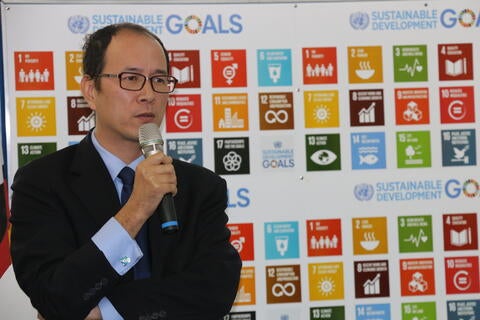 "When countries invest in the health and education of their youth, especially teenage girls, and create opportunities for them to realize their full potential, they are also better positioned to realize a demographic dividend, which can propel economic growth to combat poverty," said UNFPA Deputy Representative, Mr. Yu Yu at the media briefing where UNFPA explained the power of demographic dividend.
Teenage girls around the world and in Zimbabwe face more and greater challenges than their male counterparts. Globally, 15 million girls are married under the age of 18 every year. At least 20,000 girls between the age of 15-19 give birth each day in developing countries, with pregnancy and child birth being the second-leading cause of death among girls of this age. In Zimbabwe, there is a 31% prevalence rate of child marriage with nearly 1 in 10 teenage girls giving birth every year. More than 1 in 3 women (15-49) have experienced physical violence since the age of 15 years (34.8%).
UNFPA Zimbabwe works with its government and development partners to invest in teenage girls through programmes in family planning, HIV prevention, gender-based violence prevention and Adolescent Sexual and Reproductive Health (ASRH), such as the flagship Sista2Sista Club girls' empowerment programme. All stakeholders, including policymakers, development partners, civil society organisations, economic sector, media, communities and in particular the teenage girls themselves, have an important role to play in shaping policies that affect girls' lives. Translation of such policies into real, positive actions will prepare Zimbabwe to harness the demographic dividend.
"As government, we are fully cognisant of the fact that investing in young people, especially girls is a critical ingredient for the achievement of national development goals such as those articulated in ZIMASSET and indeed in the Constitution," said Acting Director of Ministry of Women Affairs, Gender and Community Development, Mr. Stephen Nyaruwata.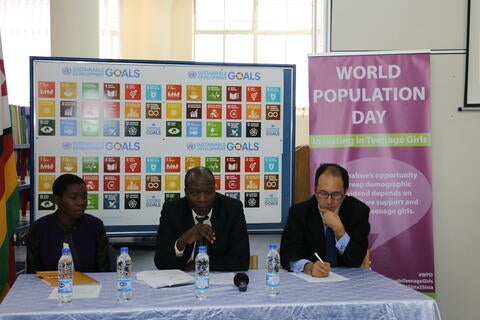 "Evidence from all over the world shows that nothing hinders the full development of girls like gender based violence in its many forms, including Child Marriage. This is why as government we are working very closely with UN agencies and other stakeholders to develop a multi-sectorial national action plan to address the scourge of child marriage"
Also as part of the World Population Day commemorations, UNFPA and the Students and Youth Working on Reproductive Health Action Team (SAYWHAT) are holding an intergenerational dialogue called "Teen Talk" on Friday 15th July at the National Gallery of Art in Harare. The event is aimed at giving 100 teenage girls from various backgrounds in Zimbabwe a platform to discuss the issues most pertinent to them and the opportunity to interact with and learn from prominent female figures in the health, education, economic and governance sectors with gender activist Nyaradzayi Gumbonzvanda expected to be the key speaker at the event. The dialogue will be followed by a photographic exhibition of real life stories from beneficiaries of UNFPA's teenage girls empowerment programmes across the country.
For more information and media queries please contact
Victoria Walshe, Communications Officer--UNFPA: Tel: 263 782300238: Email: walshe@unfpa.org