Birchenough Bridge Hospital is named after the iconic bridge that spans the Save river. The hospital complex is nestled a stone's throw away from the bridge, near the main highway that connects Chipinge and Buhera districts. On one side there is a rural community butting up against the fence separating the mothers' waiting home and on the other side is a thriving market, teaming with traders and stray livestock. Officially, Birchenough Bridge is in Buhera district, serving a catchment area of 18,000, but because it is at the southern tip of the district, at the meeting point of Buhera, Chipinge, Bikita and Chimanimani it has to serve a much larger population.
The maternity department is the department that is under the most strain, especially after Cyclone Idai, which damaged infrastructure at health centres across the Chipinge, Chimanimani and Buhera districts. 
"Looking at maternity services, they range from 180 to 200 deliveries per month. Mothers are supposed to stay at the hospital for 3 days post-delivery, but our maternity ward can only accommodate eight mothers. We have theatre services and after caesarean section, someone can stay five to seven days. With a capacity of eight, it means we cannot keep them for three days. We have to discharge earlier," Nicholas Sithole, Matron at the hospital explains.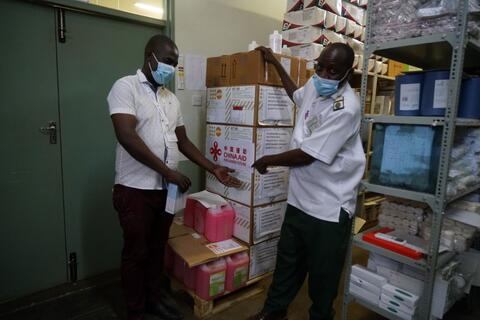 The Maternity Waiting Home is another area that is operating beyond its capacity. Designed to accommodate 15 mothers, the waiting home is bursting at the seams with 8 to 10 mothers forced to squeeze into rooms designed for 3 or 4 people. Proximity of the mothers' waiting home to the community means that break ins and thefts are not uncommon, especially when mothers leave for exercise and regular medical checks.
The situation is set to change for the better as work on refurbishing the damaged maternity infrastructure due to Cyclone Idai has been completed. The Health Assistance Project for Women and Girls Affected by Tropical Cyclone Idai in Zimbabwe is China Aid funded and administered by UNFPA. It is redressing a lot of the shortcomings that have plagued maternity departments in the Cyclone Idai affected areas. 
At Birchenough Bridge Hospital, the old mothers' waiting home has been refurbished with a fresh coat of paint, new interior fittings and new beds. A modern water toilet system has been built with its own septic tank. The cooking and washing areas have been upgraded with smart floor tiles, new doors, new water taps and better wheelchair access.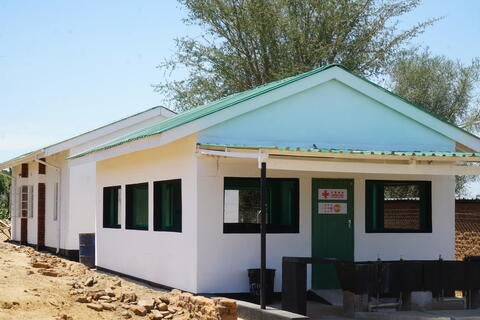 After working through many challenges, especially after cyclone Idai, Dr. Rumbidzai Michelle Musvosvi, one of the two doctors stationed at Birchenough Bridge hospital is grateful that the maternity department is getting help in infrastructural upgrades, medicines supplies and equipment and training. "We've had major changes such as refurbishments and our theatre is working again. At times we can get up to 50 caesarean sections per month which is a lot."
"We've had a couple of BemONC (Basic Emergency Obstetric and Newborn Care) trainings done offsite and some done onsite under this project and we also have ongoing on-the-job training here at the Hospital whereby our maternity staff and our non-midwives engage, sometimes weekly, to revise some of the difficult topics or to learn the gray areas," explains Dr Musvosvi.
"Every one of our staff members - the midwives and the non-midwives has been through an on-the-job training session or BemONC trainings. With the help of UNFPA we received beds and bedding, diagnostic tools such as fetoscopes, stethoscopes, blood pressure machines. We also received caesarean section and delivery packs and medicines," as she lists some of the assistance received through the Health Assistance Project for Women and Girls Affected by Tropical Cyclone Idai in Zimbabwe.  
Birchenough Bridge Hospital is just one of 81 health centres that have received assistance through the project. Nurses and midwives in all these centres have received on-the-job training. Pharmacies have been restocked with vital medicines and lifesaving equipment has been provided for maternity departments.
Maternal mortality remains very high in Zimbabwe. At least 8 women die every day due to pregnancy related complications. It is such life-saving support from the Government of China that has been the difference between life and death for many women in the cyclone affected districts of Zimbabwe.
By Ben Mahaka