You are here
Health Development Fund 

The Health Development Fund (HDF), led by the Ministry of Health and Child Care (MOHCC) in partnership with UNFPA and UNICEF, is a multi-donor fund to the health sector in Zimbabwe with a focus on reproductive, maternal, child and adolescent health (RMNCH-A) with a total budget of approximately $680 million over 5 years (2016-2020). 
The HDF originated from two health sector programmes implemented over the past few years, namely the Health Transition Fund (HTF) managed by UNICEF supporting health system strengthening for MNCH and the Integrated Support Programme on Sexual and Reproductive Health and Prevention of HIV and Gender Based Violence (ISP) managed by UNFPA supporting sexual and reproductive health and rights. These two programmes were funded by donors including DFID, EU, SIDA and Irish Aid through two different steering committees, both led by the MOHCC.
The partnership of UNFPA and UNICEF through the HDF aims to strengthen efforts towards improved access to health for women, children and young people in Zimbabwe by harnessing the experiences, lessons learnt and successes achieved throughout the implementation of the HTF and ISP.
The Health Development Fund's goal is to contribute to reducing maternal mortality (by 50%) from 614 and under-5 mortality (by 50%) from 75, by ensuring equitable access to quality health services for women and children by 2020; and to contribute to the reduction of the unmet need for family planning to 6.5%, halving the prevalence of stunting in children under-5 from 28% and eliminating MTCT by 2020, combating HIV and AIDS, Malaria and other prevalent diseases.
UNFPA'S Role in the HDF
UNFPA is responsible for the HDF Pillar II on Sexual and Reproductive Health and Rights (SRHR). Thematic areas under the SRHR pillar include: Family Planning, Cervical Cancer, Maternity Waiting Homes, Adolescent Sexual and Reproductive Health, Gender Based Violence, Fistula, Post Abortion Care, HIV/SRH Linkages and Community Strengthening.
Other interventions that UNFPA support under HDF include, among others, Midwifery, Maternal Death Surveillance and Response (MDSR) and Reproductive Community Security.
Revitalising Maternity Waiting Homes Project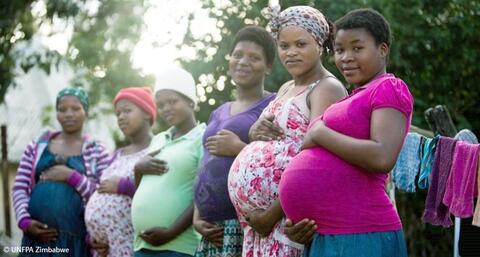 The Revitalising Maternity Waiting Homes Project, supported by the European Union, aims to improve maternal health with a focus on promoting institutional deliveries by increasing the number of functional Maternity Waiting Homes (MWHs) in the country as well as training of health providers in Emergency Obstetric and Neonatal Care (EmONC). To date:
102 Maternity Waiting Homes have been renovated and refurbished; 100,000 pregnant women have benefitted from accessing the Maternity Waiting Homes
62 ambulances suited for rough terrain to strengthen referral services at district level
591 service providers trained in EmONC to strengthen their capacity to manage obstetric complications
H6 Zimbabwe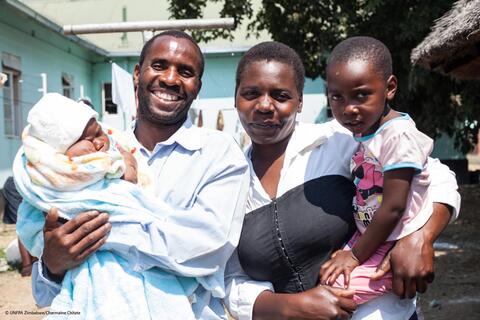 H6, led by UNFPA in Zimbabwe and supported by the governments of Sweden and Canada, is a joint effort of WHO, UNFPA, UNICEF, UN Women and the World Bank to improve the health of women and children by reducing child mortality and improving maternal health in six of the hardest-to-reach districts in Zimbabwe;Chipinge, Gokwe North, Hurungwe, Mbire, Chiredzi and Binga.