MBARE, Harare - As the luminous transporter blasting the music of Toky Vibez rolled into Mbare, Harare's oldest township, people streamed out of food halls and market stalls to investigate the commotion. "Mbare, are you ready?" a voice boomed out.
The façade of a brightly painted canvas was rolled back to reveal 40 young people waving colourful T-shirts, sunglasses, badges, umbrellas – and condoms. As the large crowd that had gathered would soon realize, they were about to be CONDOMIZED.
At the recent International Conference on AIDS and STIs in Africa (ICASA) in Harare, the vibrant CONDOMIZE campaign attracted almost as much interest as the event itself. UNFPA and its partners, the Ministry of Health and Child Care (MoHCC), SafAIDS, SAYWHAT and the Global Condom Project, ran the campaign in the capital ahead of ICASA and during the week-long conference.
Making safer sex the option of choice
The campaign aims to educate people on how to use condoms correctly and to support governments in making a variety of condoms available, in conjunction with water-based lubricants. The goal is to ensure that safer sex with a condom is convenient, enjoyable and the option of choice in an effort to prevent the spread of HIV in Zimbabwe, particularly among young people – and to curb the AIDS epidemic by 2030, in line with the Sustainable Development Goals.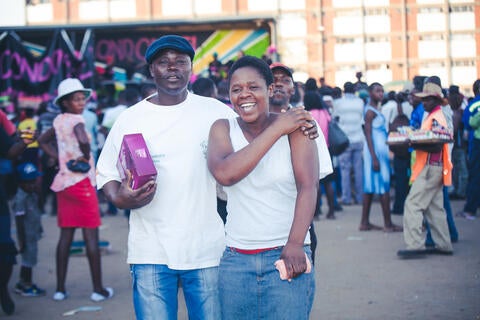 In more conservative African societies, condom use tends to be linked with promiscuity, especially among young people. "Some people are embarrassed to talk about condoms because they think prostitutes are the only people who use them," said a young man in the crowd.
The CONDOMIZE campaign seeks to break down this stereotype and debunk myths associated with condom use among men, women, young people and key populations through its 'attraction rather than promotion' strategy.
Using innovative methods such as the roadshow truck, entertainment, art zones, and colourfully designed product give-aways, the campaign acts as a social mobilization platform to discuss and educate communities about condoms and sexual and reproductive health and rights, including HIV and sexually transmitted infections (STIs).
People are going to have sex, with or without a condom. We want to help them make the right decision to have safer sex - UNFPA Senior HIV Advisor, Bidia Deperthes.
People are going to have sex, with or without a condom.                                                                       – Bidia Deperthes, UNFPA Senior HIV Advisor

 
To date, the campaign has been taken to eight African countries – Burundi, Congo Brazzaville, Ethiopia, Malawi, Zambia, Botswana, Swaziland and Togo.
Zimbabwe, which has an HIV prevalence rate of 15 per cent, with more than 80 per cent of HIV infections transmitted through sexual contact, is being targeted in an attempt to tackle the HIV & AIDS epidemic. Young people account for the majority of new HIV infections and are most at risk of unintended pregnancy and STIs.
Challenges for young people
Among young people, condom programmes face serious challenges with regard to access and utilization.
A recent study by UNFPA and the Ministry of Health and Child Care on public sector condom acceptability among youth in Zimbabwe found that major challenges to uptake included cultural and religious values, socioeconomic realities, logistical barriers, gender stereotypes and misconceptions, and lack of accurate knowledge. Public sector condoms were perceived to be less appealing and more difficult to access than other condoms available.
The study highlighted the need for innovative approaches to condom programming in terms of education, breaking down gender stereotypes and dispelling misconceptions. It also showed the need to increase the appeal of public sector condoms, such as those used in UNFPA's CONDOMIZE campaign, which range in style, colour, texture and flavour, and include female condoms and even glow-in-the-dark condoms!
Zimbabwe is one of the countries where condoms have readily been accepted. – Anna Machiya, MOHCC
Country with highest condom uptake
"Zimbabwe is one of the countries where condoms have readily been accepted," said MoHCC National Coordinator for STI Prevention and Condom Distribution, Anna Machiya, who leads the CONDOMIZE campaign in Zimbabwe. The government, with support from UNFPA, distributed 110 million male condoms in 2014, along with 5 million female condoms – the continent's highest uptake.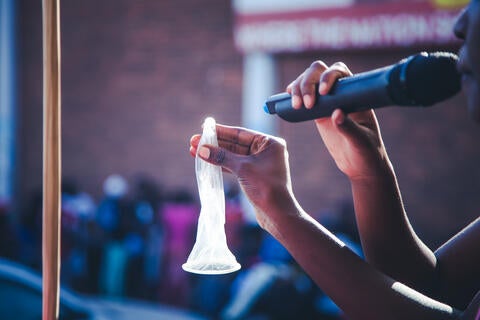 Another study carried out by UNFPA and MoHCC, and presented at ICASA, found that 80 per cent of women and 75 per cent of men in Zimbabwe accepted the FC2 female condom, also known as the Cupid Female Condom (CFC). Only 1 per cent of women reported difficulties in using the condom. It concluded that the CFC is an additional safer sex option that would be liked by all.
To date, the CONDOMIZE campaign has equipped five of the most under-served communities in high-density areas of Harare, which has an HIV prevalence of 13 per cent. Over 5000 people have been educated on the correct use of condoms through edutainment and live demonstrations in the communities of Mbare, Epworth, Chitungwiza, Highfields and Mufakose. A national campaign is planned for 2016: Don't Compromize, CONDOMIZE!
By Victoria Walshe