Midlands State University, 19 May – "There are many problems we face on campus as students; some of my friends have had problems with drug abuse, abortions and STIs," said 24 year old Tinashe, a Human Resources Management student at Midlands State University. "Before we didn't know where to go for advice and help, I hope this centre will change that."
Tinashe is speaking of the newly established students' resource centre for sexual and reproductive health at MSU, supported by the United Nations Population Fund (UNFPA) and partner 
Students and Youth Working on Reproductive Health Action Team (SAYWHAT)
, officially opened in Gweru on 19 May 2017.  The Resource Centre, renovated and equipped by UNFPA, will serve as a central hub for 25,000 students of MSU to access sexual and reproductive health (SRH) information. It will also provide linkages to SRH, HIV and GBV services, both on and off campus. The initiative is the first of its kind in a national tertiary institution and acts as a model for youth investment in harnessing the demographic dividend.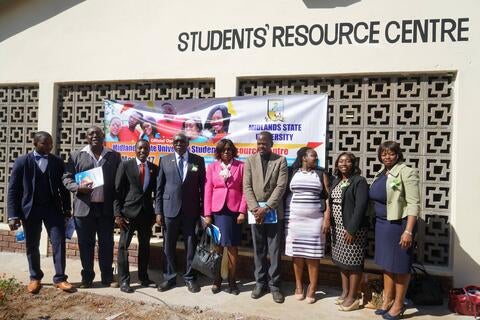 The Demographic Dividend is a boost in economic growth that occurs when there is a larger number of people of working age than those above or below the working age. African leaders at the highest levels have acknowledged the demographic dividend to be of central importance to Africa's transformative development, allocating the theme of this year's African Union Assembly "Harnessing the Demographic Dividend through investments in Youth".
With an extremely young population with 62% being between the ages of 10-24 years Zimbabwe stands at the threshold of attaining the demographic dividend but this is not an automatic process. Investments in the future of young people in four critical areas of Education and Skills Development, Health and Well-being, Employment and Entrepreneurship, and Governance and Youth Empowerment are required in order to empower them to realize their full potential, thus contributing to the economic and social transformation of the country.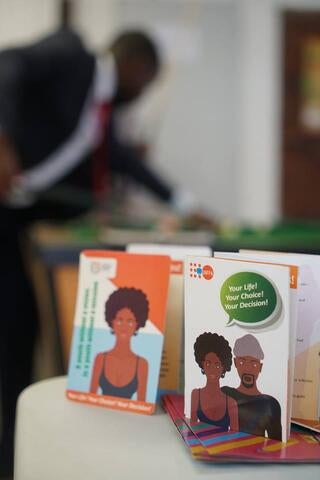 However, this cohort in particular faces a myriad of challenges related to their sexual and reproductive health and development. In Zimbabwe, nearly 1 in 10 adolescent girls give birth each year, HIV prevalence among young people is 6.7% and less than half of young people age 15-24 with primary school level and of those living in rural areas have a comprehensive knowledge of HIV prevention methods (41.4%) (ZDHS 2015). Lack of access to sexual and reproductive health information and services is a driver of these negative SRH outcomes and threatens the development of the nation in reaping the benefits of the demographic dividend.
Increased access to SRH information and services, through initiatives like the MSU Resource Centre is a key step in empowering young people to lead healthy and productive lives.
Speaking at the launch of the Resource Centre, UNFPA Country Representative, Cheikh Tidiane Cisse, emphasized the need for multi-sectorial, multi stakeholder involvement to ensure good Sexual Reproductive Health outcomes for young people and contribute to harnessing the Demographic Dividend.
"As UNFPA we are working with various partners including the Government of Zimbabwe, tertiary institutions and CSO partners to advocate for the rights of the young men and women of Zimbabwe", said Cisse. "This includes the right to accurate information and services related to their sexual and reproductive health through the availability of Comprehensive and Sexuality Education, increased availability of and accessibility to Youth friendly health services and the creation of an enabling environment for ASRH services through youth participation and policy."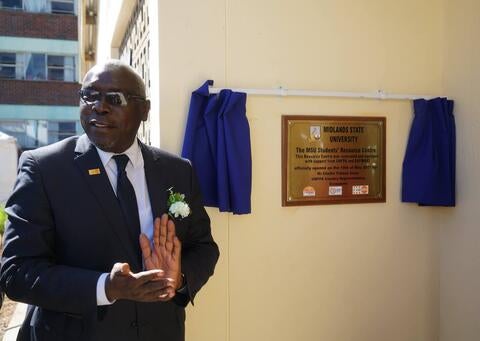 The Resource Centre has been fully renovated and equipped with furniture, snooker tables, dart board, computers, monitors, speakers, projectors, printer and air conditioners providing an enabling space for edutainment for the students of MSU.  "The provision of this excellent resource centre will go a long way in promoting  young people's access to sexual and reproductive health information; creating a safe, youth friendly and youth-centered environment for students to engage, dialogue and learn critical life skills, while also having fun!" said SAYWHAT Director, Vimbai Mlambo
The MSU Resource Centre and its ongoing SRH programmes are supported by UNFPA under the Safeguard Young People Programme (SYP), funded by the Swiss Agency for Development and Cooperation and the Health Development Fund (HDF), a multi-donor fund with support from the governments of Britain, Ireland, Sweden and the European Union. 
By Victoria Walshe