UNFPA: Delivering a world where every pregnancy is wanted,
every childbirth is safe and every young person's potential fulfilled.
17 January 2017
MASVINGO, Zimbabwe – Two years ago, Evermore left school at the age of 14 to marry a 23-year-old man. Her marriage quickly deteriorated to the point of her husband beating her and denying her food. She was miserable, stressed and scared. After four months, Evermore appealed to her parents to help her leave the marriage. They
5 October 2016
Building capacity to save lives
GOKWE NORTH DISTRICT, Zimbabwe – After completing her nursing training at Kwekwe Hospital, Sister Violet Makaza, 29, decided to do more specialist training supported by UNFPA, the United Nations Population Fund, in...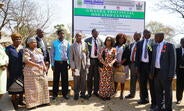 UNFPA Humanitarian Response
Bryan K's SYP Music Video "Rudo"
Reconstructing Lives: Tuwede's Story